Séafra Duffy, a native Hoosier and a lifelong champion of lost causes, spends the majority of his time rescuing vintage typewriters when not busy using them to write. His most current work, 100 Days, 50 Bottles, and a Typewriter: Locked Down and Grounded in Flyover Country, is testament to his firm belief that words should always be fearless and honest. And occasionally, humorous.
When not struggling against the blank page, Séafra Duffy can usually be located in the midst of any number of compromising moral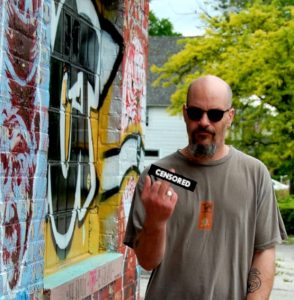 dilemmas. Or perhaps under the nearest bush. Either way, he is guaranteed to write about the experience.
This website is an attempt to somehow capture a glimpse of that creative process and energy in the hopes that it may inspire those around him to make their own little part of the world just a tiny bit more beautiful. Every single fucking day.
So get off your asses and do the work.
No one is going to write the story for you…