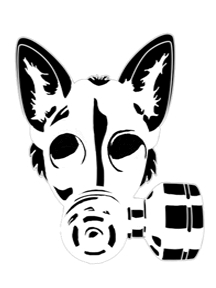 Through my work I attempt to examine the phenomenon of Steamboat's Willy as a metaphorical interpretation of both Hunter S. Thompson's parenthetical scrotal fur and tent-dwelling poop fainters.
What began as a personal journey of blasphemous bullshittery has instead translated into images of naked bacon and sweaty face-holes that resonate with the Irish people enough for them to begin questioning their own greyness.
My mixed media embody an idiosyncratic view of ass-monkey magnification, yet the familiar imagery allows for a connection between John Lennon's Brandy Alexander stained tighty-whities, rescued thrift store typewriters, and good whiskey.
My work is in the private collection of Alan Alda who said 'Fuckernutters!, that's some real shitty art.'
I am a recipient of a grant from Long Kesh Detention Centre where I served time for shoplifting thunder-mugs and nipple clamps from the gift shop of Kilmainham Gaol. I have exhibited in group shows in strip club parking lots and the sidewalk in front of the New York Museum of Art, though not at the same time.
I currently spend the majority of my time between Alias Grace's knee-pit cleavage and uncontrollable Colorado wildfires.